Tan Seat Covers Fits 99 to 04 Toyota Tundra 40-60 Split Bench American Flag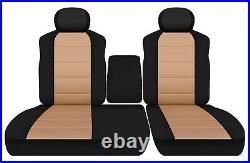 Tan Seat Covers Fits 1999 to 2004 Toyota Tundra 40-60 Split Bench American Flag. Fits Toyota Tundra 1999, 2000, 2001, 2002, 2003, 2004. 40-60 Split Bench in Black and Tan Bucket Seats, Separate Headrest Covers.
Please check out our best sellers below. 85% Cotton 15% Polyester Our seat covers are of high quality, with a 3 layer construction. Face material that is hand picked. Foam padding that creates comfort, and a backing to give the seat covers its durability. The whole seat is covered front and back. (back with black licra material) The seat covers are machine washable. Wash on cold cycle and drip dry. Do not machine dry them We guarantee our products against any defects Seat covers do not only give the inside of your car more character they also protect the original seats.
Personalize your seat covers, and give your interior a personal touch A great gift for any occasion. WE HAVE LISTED A WIDE VARIETY OF SEAT COVERS FOR DIFFERENT CARS. IF YOU NEED THE SEAT COVERS AT A CERTAIN DATE. WE DO OUR UTMOST TO PROVIDE A GOOD CUSTOMER SERVICE.
Car seat covers in universal styles and also made to order. In a wide variety of colors and materials. You can also create your own design for your car, truck, suv or motor home. Just come in and take a look in our store. Front and Rear Car Seat Covers 2009 to 2020 Toyota Tacoma USA Flag Covers.
Fits Toyota Tacoma Seat Covers 2001 to 2004 4 x 4 Design. Car Sedan Seat Covers 2018 Toyota Camry Personalize Panda Design 22 Colors ABF. Universal Car Steering Wheel Cover cotton material in a variety of colors.