Rough Country Neoprene Seat Covers for 1999-2006 Chevy/GMC 1500 91019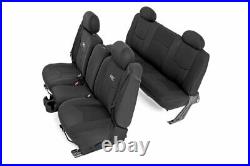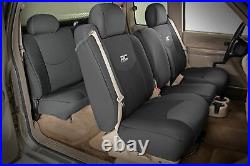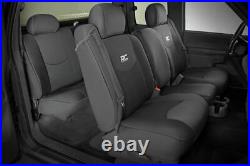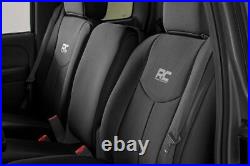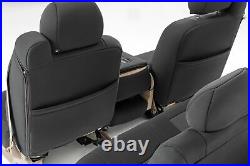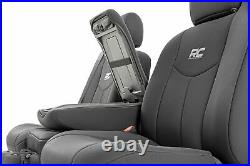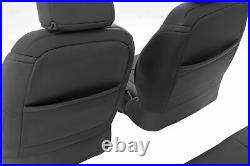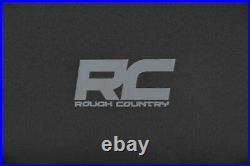 4 Layer Construction w/ Neoprene, Foam Padding, and Protective Polyester Shell. Neoprene offers great breathability, water resistance, and UV Resistance. Easy at Home Installation, Supported by RC.. Made to factory specifications including Headrest where applicable.
Protect your Chevy's seats from water, mud, and anything you can throw at it with Rough Country's front and rear Neoprene Seat Covers. These easy-to install covers fit snugly over your truck's seats to protect your interior from the elements while blending in perfectly. These comfortable seat covers feature a 4-layer construction with a thick foam padding for a comfortable feel and durable quality. The outer Neoprene protective layer wards off water and mildew while being soft to the touch and offering great breathability. Each cover is designed to be an exact fit on your vehicle, with accessibility for airbags, seat adjustment, and more!
No tools required for this fast and simple upgrade, just slip each cover firmly over the seat and fasten with the built-in straps and you're ready to roll! Or choose front and rear for full seat protection! Easy at Home Installation, Supported by RC. Works w/ Extended Cab models.
A lot of things can happen on the road less traveled, and Rough Country has you covered! We're confident in our high-quality products so we're giving you more peace of mind and more bang for your buck! We will replace your defective item at no cost to you!
Include all original items in the Return. 98% of all orders placed leave our warehouses the same day (not including weekends & holidays). Even with our huge inventory, we may run out of an item. If any questions please contact Rough Country prior to placing your order.