BLACK DUCK Seat Cover for Toyota Landcruiser 75 Series TROOPY Bucket 3/4 Bench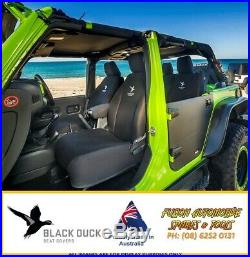 BLACK DUCK Seat Cover for Toyota Landcruiser 75 Series TROOPY Bucket 3/4 Bench. Number and one of our trained staff will be more than happy to assist you.
Please also compare the image and or dimensions provided to compare with your part. We provide these pictures and dimensions to aide in the selection process. We list products based on fitment as opposed to what they do not fit, it is an exact art please take the time to check your vehicle details prior to ordering as incorrect selection will result in additional costs.
PLEASE BE AWARE THESE FITMENTS ARE BASED ON AUSTRALIAN DELIVERED MODELS THAT ARE RIGHT HAND DRIVE. Seat cover selection can be tricky, Please take a look through this Checklist prior to purchasing and ensure you read and understand everything in our listing. Check to see if your car is fitted with Seat mounted Side Airbags (Check our FAQ Below for further details to identify if you have Side Airbags fitted to your vehicle). Some Vehicles come fitted with an Armrest in either the front or the rear seats, please check our vehicle description above to verify if the cover you are looking at comes with armrests. Some cars come fitted with a Bucket ¾ seat, These seat covers feature a ¾ bench on the passenger side.
As this is a âSpecial Orderâ made to order item please be aware that they are a non-returnable item, Variations are common, if your unsure give us a call on our parts hotline. All images supplied herein are generic only and are to be used as a guide and not as a direct image of style color or fitment for this specific vehicle. Make: Toyota Model: Landcruiser Series: 75 Series Build Dates: 01/85-09/99 Body Style: - Sub Model: TROOPY Part #: LC751 Denim - Item Front Bucket with 3/4 Bench. Item Description Driver Bucket & Passenger 3/4 Bench Item Color/Material Black Denim This listing is for Black, However we can have them made in Grey also. If you would like to change the color to Grey please send a message when going through the Checkout regarding your color change.
Once the covers have been ordered by us no color changes will be accepted. To See what Other Options we have for this Car. Search tag for canvas Toyota Landcruiser 75 Series TROOPY Front Bucket with 3/4 Bench Black Duck Canvas Seatcover.
The Very Best Heavy Duty Car Seat Covers No matter your vehicle, Black Duck will have a solution to meet your needs. Add protection and resale value to your vehicle with a canvas or denim seat cover.
Whether itâs used for work or pleasure, our covers are built to withstand the most unforgiving conditions while delivering a custom fitted look and feel and the highest safety compliance standards. With Black Ducks durable canvas or denim seat covers, they provide you with a peace of mind because your vehicle always looks good as well as returning that extra value at resale.
Black Ducks exceptional products serve as a genuine investment for your vehicle and ensure the lifespan of your original seats is prolonged for as long as possible. Any seat fades and accumulates blemishes or stains over time, maintain the aesthetic appeal of your interior by utilising stain resistant covers which are easy to clean and made to be tough. Black Duckâs covers cater for a wide range of specifications with an excess of 1070 seat cover patterns, and the list continues to expand everyday as their Reasearch and Development team work to keep up with the latest releases. We offer various seat cover patterns for passenger and commercial vehicles covering a wide range of industries.
Go out and get lost! If you like adventuring and bush bashing in your four wheel drive, then our recreational 4Ã4 heavy duty car seat covers are a perfect solution for you to avoid soiling your pristine interior. We understand that you want a vehicle that can keep up with your adventurous lifestyle, and often this means having the right protection for your car to ensure itâs up to the challenge. Benefits of utilising a canvas made cover for your car seats Utilising one of the Black Duck high quality covers is an investment for any vehicle and stands to prolong the life of your existing seats. They are also designed to be very comfortable and sit snugly around the seats to avoid bunching and wrinkling. Easy to clean and resistant to stains, theyâre the smart choice for any driver! Black Ducks philosophy The name Black Duck originates from the Dutch word âdoekâ, a traditional linen canvas and waterproof fabric, noted for its comfort as well as its hard wearing durability. These are the qualities that Black Duck aims to invest into all of their premium products. With their durable seat covers, they provide you with the peace of mind that comes with knowing your vehicle is protected and always looks good.
The Black Duck Denim material is a heavy duty twill fabric which has a layer of high density foam for extra comfort and a soft polyester net backing to protect it from wear. Our Denim range is a comfortable alternative to our canvas. Although it is water resistant and strong, it is not as durable as the canvas. The canvas is designed to take a hard beating of mud, dirt, grease, grime, sand, every day however the denim has sacrificed a little bit of that durability for comfort.
It will still take a lot of use and abuse and protect the original seats, but it will provide more comfort for the daily drive. Perfect for the beach trip, the weekend away or the accidentally dropped ice cream⦠⢠Perfect choice for recreational 4Ã4 ⢠Protection from dust and dirt ⢠The same Black Duck superior fit as the canvas ⢠Extra comfort with durability and protection ⢠Air bag compatible ⢠Available over the entire range of patterns ⢠Water resistant. They offer: Protection High return on investment for your vehicle.
What are seat fitted side impact airbags? Side airbags are an important innovation in vehicle safety equipment for protecting occupants in side impact crashes.
These airbags are designed to reduce the risk of injury to the pelvic and lower abdomen regions. These airbags may also offer protection in rollover crashes or when two vehicles collide at an angle. Side airbags are generally fitted in the outer cushion of the front seats, in line with the occupantâs ribcage, and inflate between the seat occupant and the door. You can check if the car is equipped with side airbags, or where they are located, by looking at the outer stitch point on the seat for a small tag that says âairbagâ.
In the case of a door-mounted airbag, there is usually a small plastic badge that says âairbagâ. For cars that have seat-mounted side airbags you should not fit non certified airbag compatible seat covers as they could interfere with the deployment of the airbags. These are not to be confused with curtain airbags, which drop down from the roof along both sides of the cabin. Example of Airbag Seat Tagging Example of other Seat position Airbag Deployment.
Care instructions for Black Duck seat covers. Your Black Duck Seat covers will stop anything from penetrating through to your vehicle seat.
All dirt will be on the outside only making cleaning easy. Vacuum to remove all dust and lose dirt. Use cold running water and a soft bristle brush or cloth. Run the dirt off the seat covers to avoid contaminating the clean side of the seat cover. Your seat cover may fade slightly after cleaning.
Do not dry-clean or machine wash. May fade slightly after washing due to proofing process. Fitting Instructions for Black Duck Seat Covers. Remove each component from packaging. Check you have covers for seat, back, headrest and arm rest if applicable. Each piece is identified on the inside with the product code and a âDâ for driverâs seat or a âPâ for passengerâs seat. Put all driverâs pieces aside. You should be left with all passengersâ pieces. Slide cover over top of seat back and down. Replace headrest before sliding cover all the way down.
Cover should be a good tight fit. Take front bottom flap and push through seat to rear.
Pull tight and attach to Velcro inside rear of cover. Slide seat base onto seat ensuring it is clear of all levers or buttons. Push rear flap through seat to back.
Pull both side flaps tight around seat base, ensuring clear of levers etc. Attach to centre flap with the attached Velcro.
If included, pull straps through under seat clearing all tracks and fittings. Pull tight and fasten to opposite side â test movement of seat to ensure nothing is obstructed. As you use your vehicle, Black Duck seat covers will mould to the shape of your seats. You may find you need to re-tension the Velcro fasteners occasionally. Then proceed to fit driverâs cover and rear seats if applicable. Only those Black Duck Seat Covers that are labelled as being Air Bag Compatible are to be fitted to vehicles with seat mounted air bags. Black Duck seat covers must not be fitted to seats containing side impact airbag components unless they are the correct seat covers with the appropriate certification. Black Duck Canvas Products accepts no responsibility or liability if this warning is not adhered to. Black Ducks standard canvas colours are grey, black and brown.
These include navy, maroon, blue, beige and green. Our Denim is only available in Black and Grey. All Covers are supplied standard in Grey unless otherwise notified by the purchaser.
Are Black Duck Seat Covers available for trucks and earthmoving machinery? Yes, seat covers are available for a wide range of transport, earthmoving and agricultural machinery. Can I fit Black Duck Seat Covers to vehicles with seat fitted side air bags?
Yes, Black Duck have a side fitted airbag compatible seat cover range. Black Duck airbag compatible seat covers are tested at a purpose built government approved laboratory and receive an official test certificate once they are approved, for your safety and peace of mind. How do Black Duck certified airbag compatible seat covers work? The R&D team at Black Duck have designed Black Duck certified airbag compatible seat covers to sense the amount of force being applied from within, as the seat fitted side airbag deploys. Consequently, the instant the force reaches a certain parameter, the seams separate allowing the safety airbag to fully deploy. Why donât Black Duck certified airbag compatible seat covers feature a hole for the airbag to come through? Black Duck have chosen to design their seat covers in such a way that they still fully protect the seat from wear, dirt, grime and damage without affecting the level of safety that seat fitted side airbags afford the vehicle occupants. Are Black Duckâs certified airbag compatible seat covers safe and certified? Yes, where noted the Black Duck airbag compatible range of seat covers are individually tested and certified and our certificates clearly state there is no compromise to the safety of the vehicle occupants.
Providing the correct seat covers for the vehicle are correctly fitted to the seats, Black Duck airbag compatible seat covers still maintain compliance with ADR requirements. Substantial research and testing at a Government approved testing laboratory is undertaken for each different model before they are approved certified and released for sale. This is a time consuming and expensive process, but we think you will agree that your safety is worth it! How do you clean them? Normally just vacuum and wipe over with a damp cloth.
If excessively dirty, you may need to remove them and hose them down with low pressure water and lightly brush dirt off. Hang out to drip dry.
Are they hard to fit? No, Black Duck Seat Covers are designed to be as easy as possible to fit, whilst holding the seat cover securely in place. Yes, headrest covers are included except as indicated otherwise in the catalogue. Yes, after a little use, the Canvas âbeds inâ giving all year round comfort.
Where are Black Duck Seat Covers made? Black Duck Seat Covers are 100% manufactured right here in Australia by Black Duck Canvas Products. Do Black Duck Seat Covers damage leather seats?
No, Black Duck seat covers are designed to fit the seat so there is no movement between the original seat and the seat cover. Can Black Duck Seat Covers be fitted to seats with seat heating? Black Duck Seat Covers wonât affect your seat heating. We are a real Business with full time staff who are here to help.
The item "BLACK DUCK Seat Cover for Toyota Landcruiser 75 Series TROOPY Bucket 3/4 Bench" is in sale since Tuesday, June 21, 2016. This item is in the category "Vehicle Parts & Accessories\Car & Truck Parts\Interior\Seat Covers".
The seller is "fast_fusionautomotive" and is located in Perth, WA. This item can be shipped to Australia, North, South, or Latin America, all countries in Europe, all countries in continental Asia, New Zealand.
Brand: Black Duck
Location on Vehicle: Front Bucket with 3/4 Bench
Make: Toyota
Model: Landcruiser
Build Dates: 01/85-09/99
Series: 75 Series
Sub Model: TROOPY
Manufacturer Part Number: LC751 Black Denim