2023 Leather Car Seat Cover For Jeep Grand Cherokee Breathable 2/5-seats Cushion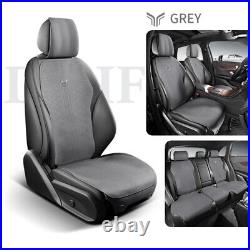 Suitable for: This product is suitable for cars / vans / trucks / off-road vehicles etc, Package include: 2-seat front covers or 5-seat covers. High quality Saddle leather material, healthy environmental protection, comfortable, breathable and durable. Waterproof and easy to clean, good for all seasons use. Cover the seats without hindering the functionality:such as the airbags and seatbelts fully functional. Engineered around your features including folding, sliding, moving etc. 2023 Leather Car Seat Cover For Jeep Grand Cherokee Breathable 2/5-seats Cushion.
Dear customers, We are always working hard to ensure that orders are delivered on time. But inevitably there will be a very small number of orders may be delayed due to the worsening of the epidemic. Thank you for your understanding! 2/5-sit Car Seat Covers Saddle Leather Seat Cushions Protectors.
Easy to clean: Wipe clean easily with just a damp towel, keeping your seat protects from stains, spills and damage. Easy to install: The package comes with an installation manual, please read it before you start the installation and you will be able to do it easily even if it is your first time. Safety: The front seats have airbag reserve ports on the side to ensure that the airbags can be popped out in case of emergency.
The rear seat belt slot also completely exposed. Material: Premium saddle leather is durable, breathable, comfortable and has good waterproof. The appropriate thickness allows you to sit for a long time without getting tired. These cushions are universal and are suitable for all types of seats. However, we can not guarantee that they fit perfectly, because the effect is influenced by the shape and size of the car seat.
Model: T04 Product Name: 2023 Saddle Leather Car Seat Covers Color: White / Black / Grey / Orange / Pink Material: Saddle Leather Features: Padded, Embroidered, Storage Bag, Waterproof, Soft Placement on vehicle: Front, Left, Right, Second row, Rear. Package include: 2x saddle leather front seat covers or 5x seat complete set saddle leather seat covers. 2023 Luxury Saddle Leather Material. Saddle leather is a kind of recycled leather, made of genuine leather fibers and natural latex, which is also an environmentally friendly material. Saddle leather itself is also cowhide, but it is called saddle leather because it is often used on the saddle bridge of a horse.
Its skin is oil-dyed and has a glossy surface. Due to the special manufacturing process, saddle leather has a longer service life than ordinary cowhide. Its appearance, feel and smell are the same as genuine leather, waterproof, anti-pollution, environmental protection, no pollution, no chemical dyeing, and higher utilization rate than genuine leather.
Suitable for: This product is only suitable for 2-seat Front / 5-seat Car, package include: 2-seat front seat covers or 5-seat covers. High quality saddle leather material, healthy environmental protection, comfortable, breathable and durable. Cover the seats without hindering the functionality: like the airbags and seat belts fully functional.
Designed to cover your functions including folding, pushing, moving, etc. The saddle seat cover surface is unique technology, fineness perforations, make it breathable comfort. It can cover the scratches and stains on the car seat, make your car seat look new. If you are satisfied with our products, please give me good feedback and 5 stars, thank you. We provide clear pictures, measurements where possible.
Please check as much as possible to make sure the item is what you need. Please allow 0.5-1 inch difference due to manual measurement (1 inch = 2.54 cm). The color of the actual item may be slightly different from the listing pictures due to different computer screen, thank you for your understanding. > This product uses environmental saddle leather, comfortable, smooth and delicate feeling, can be used to clean water and dry. > This product can protect the car seats, and keep the original car and the car seat is always the same. > Perfectly close to the seat, no shifting, close to waist line, relieve fatigue. White / Black / Grey / Orange / Pink. The Necessity of Car Seat Covers.
Are you still worried about getting your car seats dirty or scratched because of the ride, keys, rings, chains, children and pets? Are you still worrying about the stains or damage on the original car seats?
Are you still thinking about how to improve the appearance of your car seats? >> Please rest assured that our car seat covers will meet all the above requirements. With excellent Anti-slip and wear-resistance, the seat cover can protect the seat from external pollution and damage, which will extend the seat service life.
Secondly, it can be uesd to cover the existing defects of the seat, making your car interior like new and stylish. Additionally, it may bring sweat and dirt to the seat every time you drive or ride. So the detachable seat cover will facilitate your cleaning and maintenance, and prevent the dust and debris in the car from affecting your health. The car seat covers are necessary for comprehensive protection of seats and passengers!
All our products are 100% original and brand new with latest version. We really appreciate your understanding! We are specialized dealer of On-Board Car Seat Cover and automotive electronics for more than 10 years. Business time: GMT8 (9:00-18:00) from Monday to Friday.